Reflections From The Cockpit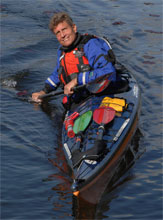 I am a professional educator having taught at colleges and Universities since 1973. I took an early retirement in June 2005 from U.C. Santa Barbara after 29 years of teaching. I continue to teach through my personal kayaking school USK. Therefore, I have a lot of thoughts and feelings about teaching. Some thoughts are philosophical and some are practical. As I travel the country doing clinics and presenting at symposia, I usually get the chance to focus on the practical.
As an Experiential Educator I am well aware of the value of reflection. Most of us do not take the time to think about what we do and what we have done, especially in this fast paced world. During my solo paddles I get the chance to reflect on my teaching. Some of these reflections have allowed me to develop new techniques and methods for teaching.
After teaching kayaking for over twenty-two years, you can bet I have lots of thoughts and ideas to share and I will use this page as my forum. It is my goal to post a new reflection each month. I don't think I can run out of topics, because I am always learning. However, if any reader would like a specific topic covered please feel free to e-mail your request. I appreciate any and all comments to my reflections too.
I apologize, in advance, if I miss any postings. When I had my full time job, I would have my reflection posted the last day of the month. If I didn't have my new articles posted by midnight, my friend Steve Holtzman would send me an e-mail at 12:01 AM of the first day of the month asking me where it was and when will it be up. Now that I am retired, I find myself even busier than before, teaching, paddling, working on the house, spending quality time with Hadley and taking time for us. I will do my best to post regularly, but if I miss some please stay tuned. When you retire you will understand.
Reflections:
July 2010 - "Producing An Instructional Kayaking Video"
January 2010 - "Lessons Of 2009"
May 2009 - "Spring Cleaning My Kayaking Equipment"
March 2009 - "Uh Oh Moments In Kayaking"
February 2009 - "Who Is The Teacher?
January 2009 - "USK's 2008 Best Of Times And Worst Of Times"
December 2008 - "Changing Feather Angles"
November 2008 - "Winterizing You And Your Kayak"
September 2008 - "The Limitations Of A Kayaking Class"
August 2008 - "The Art Of Staying Upright"
July 2008 - "Balance In Sea Kayaking"
June 2008 - "The Whistle In Kayaking"
May 2008 - "Testing Your Immersion Ensemble"
April 2008 - "Where Should I Go Paddling?"
February 2008 - "The Dressing Game"
January 2008 - "Looking Back To See Ahead"
December 2007 - "Giving Thanks"
November 2007 - "Safety In Numbers?"
October 2007 - "Using Nose Clips For Kayaking"
May 2007 - "The Transient Nature Of skills"
April 2007 - "Can I Still Do That? - Thoughts On Self Assessment"
February 2007 - "Paddling In Organized Chaos"
January 2007 - "Making A Difference
December 2006 - "Renting A Kayak"
November 2006 - "Feeling Alive"
October 2006 - "Learning In Chaos"
September 2006 - "Your Right To Say No!"
August 2006 - "Go Ahead, Make My Day!"
July 2006 - "Borrowing/Renting Equipment
June 2006 - "The Seasick Paddler"
April 2006 - "Sticking To The Itinerary Attitude"
March 2006 - "Run Back To The Barn Attitude"
January 2006 - "Sharing Experiences"
December 2005 - "Paddling In The Rain"
November 2005 - "Real Creatures from the deep"
October 2005 - "What Do You Want From A Trip?"
September 2005 - "Is The Kayak Afraid?"
August 2005 - "Capsize Recovery Theory"
May 2005 - "Keeping A Kayaking Log"
April 2005 - "Dressing for Immersion"
March 2005 - "Victim or Victim Behavior"
January 2005 - "Group Paddling Creed"
December 2004 - "The Gift of Kayaking"
November 2004 - "Who's Right?"
October 2004 - "Eyes Opened or Eyes Closed?"
September 2004 - "Mental Game of Rolling"
August 2004 - "Surf Zone Responsibilities"
July 2004 - "Test Driving A Kayak"
June 2004 - "Yak-Gyvers" Creative Solutions
May 2004 - "Combat Ready Knife"
March 2004 - "Do I need a helmet?"
February 2004 - "Magic Kayaking Moments"
January 2004 - "Time For Reflection"
December 2003 - "Escape From Kayak Attitude"
November 2003 - "Deck Storage"
October 2003 - "When Nature Calls"
August 2003 - "Effective Communication"
July 2003 - "Why Can't I Do That?"
May 2003 - "Using All of the Paddle"
April 2003 - "Tuning N Timing"
March 2003 - "The Ignored Reverse Stroke"
February 2003 - "Using Footwear"
January 2003 - "OLD and the NEW"
December 2002 - "Leaving the Group"
November 2002 - "Paddling Alone"
October 2002 - "Sea Kayaking Symposia"
September 2002 - "Floatation Devices for Capsize Recoveries"
August 2002 - "Playing with Your Kayak"
July 2002 - "Proper Floatation"
May 2002 - "Roll or Not to Roll"
April 2002 - "Equipment Maintenance"
March 2002 - "Practicing Recoveries"
February 2002 - "Utilizing the Group"
November 2001 - Wet Re-Entries